Ripple 12" Balance Bike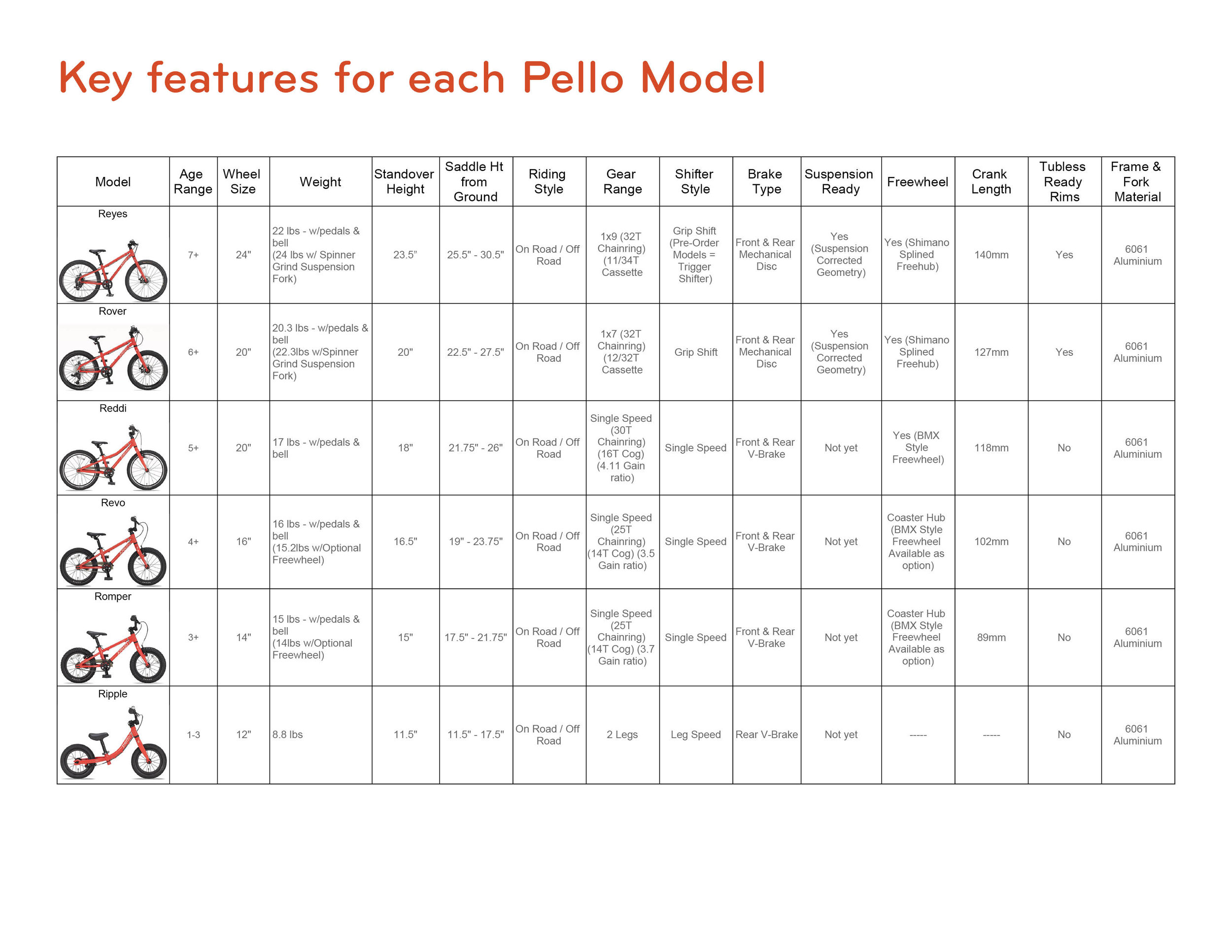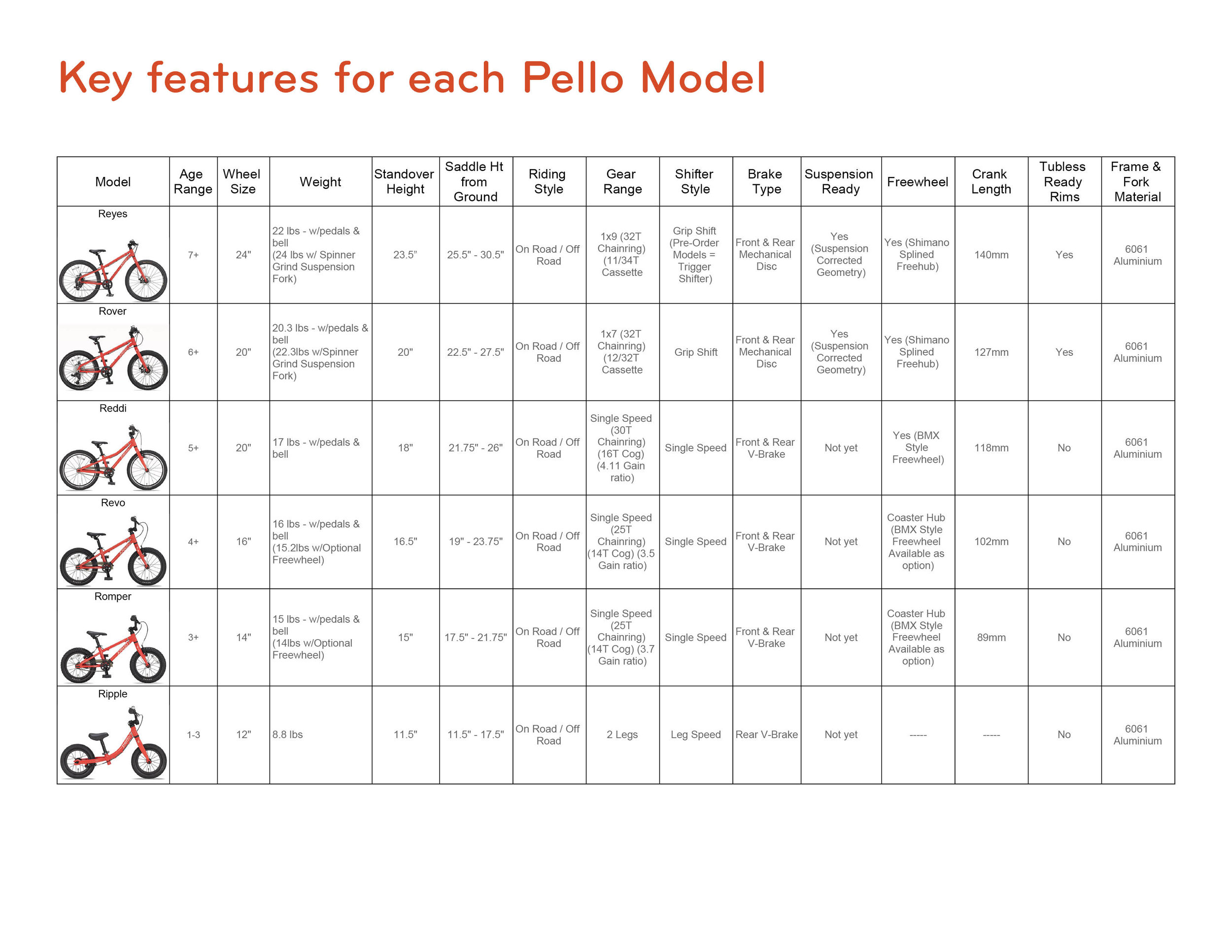 Ripple 12" Balance Bike
Coral Shipping Now, Orange (Pre Order), **Please see below

Ages 1-3

Saddle height from ground: adjustable from 11.5-16" (17.5" w/included longer seatpost)

Handlebar height from ground: adjustable from 20-23"

Free UPS Shipping (Canada $50)

Lifetime warranty on frame and fork

Every bike purchase comes with GrowPello

**Pre-Order (Orange) - Bikes scheduled to begin shipping 11/30/19, Please Click HERE for more details on Pre Ordering your bike.
The Ripple is our balance bike and is designed to provide your little one the perfect foundation for many years of great riding. We designed the Ripple to not only be easy to ride but also easy to learn how to ride. Putting your child on a balance bike teaches them balance, and balance is a primary factor in learning to ride a bike. The best part is they tend to learn balance without even trying...really! We've found that children treat a balance bike as a toy; through safe experimentation little ones figure out balance all on their own while having fun. Learning balance before pedals are introduced speeds the transition to a pedal bike, it is far easier to learn one new skill than trying to learn 3 at one time (such as balance, pedaling, and braking), especially if you are 2 years old. With mastering the ride on our Ripple early, your child will soon be ready for a pedal bike, where they can enjoy a ride on our super cute and equally awesome Romper or Revo!
The Ripple's super low stand-over height and extremely light weight help make the bike easy to move for little bodies. We also thought about how quickly children advance and grow, so we included a rear hand brake (sized for tiny hands) for when they are ready to "figure out" what braking is all about. Our handlebars are adjustable from 20" to 23" height from the ground to allow room for that rapid growth. Speaking of growth, we offer a longer seatpost (a little over 1.5" longer) should your little one need just a little more time before moving on to pedals. The Ripple grows with your child as they build confidence and get ready for "big kid" bikes with pedals!
Similar to its older siblings, the Ripple's geometry is designed using our "Ride Right Geometry," with a low center of gravity making it easy to control, child proportional sized saddle and grips, super lightweight frame, cane creek headset, and cushy Kenda tires to provide traction on almost any surface… including the living room floor! All these ingredients make the Ripple a perfect fit and provide the foundation for your child's lifelong passion of riding!
Each bike comes with a bell, spare tube, quick release seat collar, pre-ship checklist (our way of checking each bike before it leaves our shop to ensure everything is good to go), 5&6mm allen keys, owner's manual, stickers

Bikes arrive at your door 95% assembled (unpack and assemble front wheel, handlebar, and saddle)

Shipping Now (Normally 1-3 days from placing your order, all bikes are shipped UPS ground from our Richmond, VA location)
*Pink. It may be hard to tell from the pictures but our Pink is on the lighter side of Pink…some folks have described it as Coral.
Specifications
Weight / 8.8 lbs
Brake Levers / Tektro-rear micro lever, aluminum
Frame / 6061 aluminum
Rims / Alex-aluminum single wall, 16h
Fork / Lightweight aluminum
Spokes / Stainless Steel, black, Aluminum nipples
Headset / Cane Creek-aluminum 1-1/8" threadless, cartridge, w/ seals
Hubs / Aluminum alloy front and rear with 5mm allen bolt fittings
Stem / Aluminum Ahead 48mm
Tires / Kenda Kontact, 12-1/2x2-1/2, schrader tube
Handlebar / Alloy 88mm rise, 400mm wide 9 degree sweep
Cranks / Almost!
Grips / Ultra slim, Kraton w/ flange, closed end
Chainring / Soon
Saddle / Cionlli-child proportional saddle sizing
Chainguard / In a year or two
Seatpost / Aluminum
Bottom Bracket / On the next bike
Brakes / Tektro-aluminum V-brake rear
Pedals / It wont be long
Gearing / Legs
Shifter / Maybe on the next bike